Salon Loïc DENIAU
Address:

18 Avenue GANZIN

83220 - Le Pradet, France

Reviews:
Phone:

0494036884

Appointment:

Email / Website

Only registered members can view email and website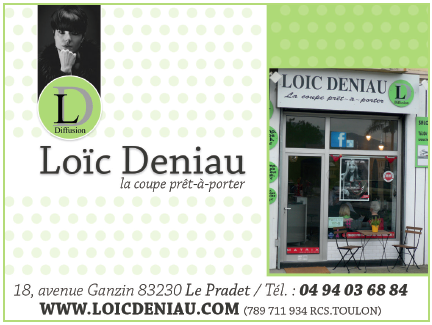 Salon prestation
La coupe prêt à porter.


Après un parcours de 17 ans chez les grands de la coiffure, où il met en place ses propres techniques de coupes.

Il satisfait une clientèle qui a de moins en moins de temps, dès lors le coiffage du matin n'est plus une corvée, mais il devient rapide et facile à réaliser.
Ouvert depuis près de 6 ans, il travail en collaboration avec une équipe dynamique.



Ses techniques conviennent aux clientes sophistiquées, comme aux hyper naturelles, en passant par les plus classiques.

Brands of the used products
The hairdressers
Did you like this hairdressing salon?
Share on social networks