BARBERS DI GIULIO
Address:

via divisione siena 19

80124 - napoli, Italy

Reviews:
Phone:

0810609957

Appointment:

Email / Website

Only registered members can view email and website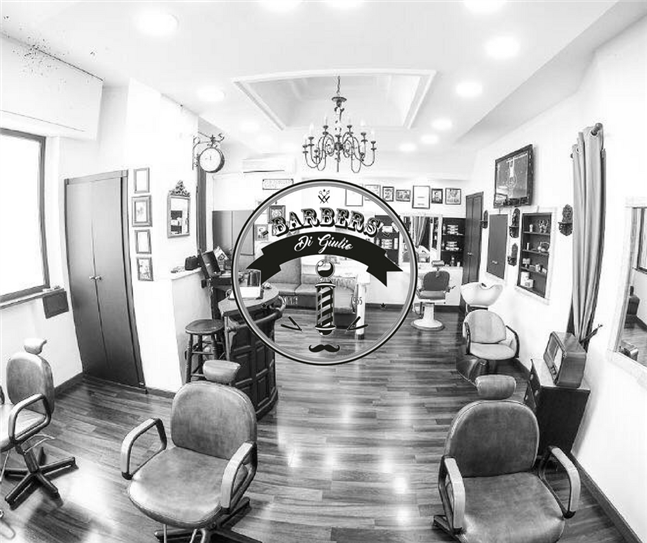 Salon prestation
Nel 1965 nasce "Di Giulio", salone con a capo Antonio Di Giulio Cesare.

Classe '49,figlio d'arte, inizia la sua professione a soli 8 anni, dove gratuitamente fa "il ragazzo di barbiere"…lo fa per imparare l'arte, e lo fa molto bene visto che a 16 anni apre il suo primo salone. Un inizio duro quello di "Tony", data la giovane età, era quasi inevitabile sentirsi dire dai nuovi clienti…

"GUAGLIO' ADDO' STA O'MAST?" ("GIOVANE DOV'E' IL TUO CAPO?").

Tony grazie alla sua bravura ed alla sua professionalità fa capire che non potrebbe avere altro capo al di fuori di se stesso, riscuote successo, e in poco tempo diventa un'istituzione nel quartiere.

Emanuele Di Giulio Cesare, classe '87, inizia la sua professione nel salone del padre, da subito dimostra amore per questo mestiere, tanto da voler ampliare a 360° il suo amore per i capelli. "Manu" inizia ad apprezzare anche il campo femminile, e decide di lavorare come parrucchiere unisex in vari saloni a Napoli e provincia, frequenta la TIGI ACADEMY di Salerno dove consegue il diploma di Stylist, frequenta vari corsi di aggiornamento per perfezionarsi sempre di più. La sua passione lo porta lontano, parte per Londra per apprendere nuove tecniche e per confrontarsi con i migliori Barbers & Hairdresser.

Nel 2016 decide di "rilevare" il salone del padre, ed ecco che nasce

BARBERS DI GIULIO…si ritorna a fare i Barbieri, quelli di un tempo…dove la tradizione fa da padrona…un salone caldo, accogliente, sembra di ritornare nella vecchia bottega del padre, in quel lontano 1965…Barba,Tagli classici,Tagli Street…Emanuele ama definirlo "IL SALONE PER MASCHI"…ci si sente subito a proprio agio, dove puoi essere servito in totale relax, sorseggiando una birra e scambiando due chiacchiere tra uomini.

Brands of the used products
wahl - proraso - charme&beauty - barbersdigiulio
The hairdressers
Did you like this hairdressing salon?
Share on social networks