Coup'tiff
Address:

61 Avenue de la libération

53940 - Saint-Berthevin, France

Reviews:
Phone:

02.43.69.26.77

Appointment:

Email / Website

Only registered members can view email and website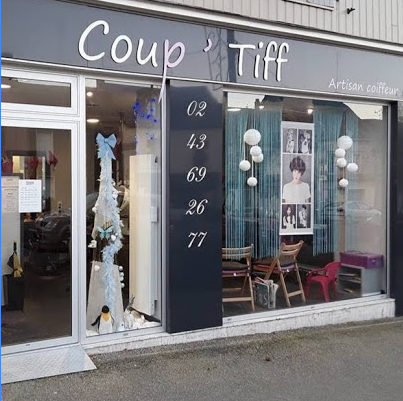 Salon prestation
À votre service depuis 11 ans, Linda et Julie vous accueillent dans un cadre simple et conviviale.
Salon refait entièrement en 2014.
Avec sourire , écoute et conseils , Linda et Julie sauront vous satisfaire.

Ouverture du mardi au samedi, horaires modulable à partir du mercredi selon la demande et la disponibilité.
Si nous ne pouvons répondre à votre appel dans l'immédiat, veuillez nous rappeler plus tard. Merci de votre compréhension.

Carte de fidélité informatisée.

Stationnement devant en zone bleue 1h30,
Place de la mairie à 50 mètres
Accès handicapés.

The hairdressers
Did you like this hairdressing salon?
Share on social networks