Saint Algue
Address:

46 Avenue du Maréchal de Lattre de Tassigny, C.Cial Carrefour

53000 - Laval, France

Reviews:
Phone:

02.52.46.02.06

Appointment:

Email / Website

Only registered members can view email and website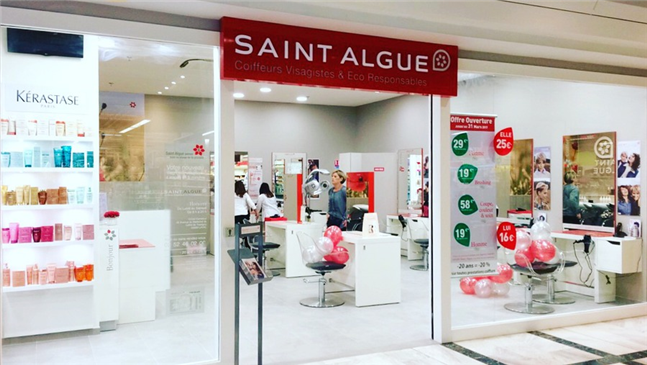 Salon prestation
Visagistes et à l'écoute de la planète, les coiffeurs Saint Algue ont à cœur d'accueillir leurs clients dans des salons chaleureux, où l'espace est dédié au bien-être, dans une ambiance joyeuse et printanière, quelle que soit la saison ! Coquelicots, champs de fleurs, tonalités orangées, tout est fait pour booster votre moral en même temps que vos cheveux.

Prendre soin de soi en prenant soin de la planète, tel est le leitmotiv de Saint Algue. Aussi, les produits professionnels sont formulés à base d'ingrédients naturels et bio, afin de minimiser leur empreinte écologique. Dans les salons, textiles bio, économiseurs d'eau aux bacs, papier recyclable et messages éco-concernés sur les miroirs…
Le bien-être de notre planète, parlons-en ensemble.

Disponible dans ce salon, la carte fidélité vous ouvre l'accès à tous nos avantages.
Servicing
Gents haircut, Starting from:

19.00 €

Ladies Haircut, Starting from:

29.00 €

Blow-dry , Starting from:

19.00 €

Hair Color, Starting from:

48.00 €

Highlights, Starting from:

59.00 €
Brands of the used products
Saint Algue Professionnel, Kérastase
The hairdressers
Did you like this hairdressing salon?
Share on social networks